We are the Crozier family. My name is Beckie, and I am married to my amazing husband, Don. We met during my junior year of high school, were immediately joined at the hip, and have been married for 9 years. We have 2 beautiful children. Ella is 8 years old, and literally a dancing queen. She has the kindest heart of anyone I know, but sure can turn on the sass when she wants to! Jackson is 4 1/2, and his smile lights up a room. He loves to jump on trampolines, play on his iPad, and play "chase me". He also has Autism Spectrum Disorder.

For my version of how our journey navigating Autism began with Jackson at 15 months, visit the first blog post. This is Don's version of our story as we learned of his autism diagnosis:


I can remember the day my wife told me it we were going to have our 2nd baby. It was 6:00 am in the morning when my wife jumped on me while in a deep sleep, and hugged me so tight with so much joy. She told me she was pregnant, and we were both overjoyed. I remember all of our family and friends asking what we wanted to have; a boy or a girl? We already had our daughter, Ella, so we were excited to possibly have a boy and round out our family. However, at the end of the day all we wanted was for our baby to be happy and healthy.

Fast forward 9 months, and we have a beautiful, strapping little boy named Jackson. I was so
excited to have daddy's little boy and thought about all the amazing things I would get to do with him and teach him throughout his life. Things like riding a bike, how to snowboard, how to throw a ball, watch sports together, rough house with and get into some harmless trouble with. Also, I have my wife and daughter ganging up on me and doing all of their girl stuff so I was very excited to have my little guy to drive them insane. Things were great and I was enjoying watching my son develop and grow. He was this chubby little thing that was relaxed and hardly cried and rarely gave us a hard time. We used to receive comments from our friends about how good he was and how lucky we were. We knew we were lucky, and felt so blessed to have our little family, although we expected as Jackson grew older and hit
the "terrible twos", we would have our work cut out for us.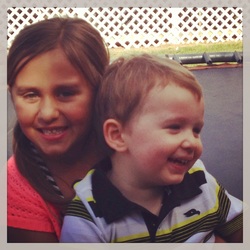 A little while after Jackson had turned one year old, we started to notice some changes in him. We noticed a lack of connection and eye contact with us and things like speaking and playing with toys had regressed. He was intrigued by light such as from the TV and had some interesting habits such as spinning and flapping his arms. This concerned my wife and me, so we began to research what this could mean.

Through our research, we found that many of the habits he was demonstrating were that of Autism. Instantly we started doing more and more research, contacting speech and occupational centers to help us, as he was still too young to definitively say if he was autistic or was just developing slower. Many people stated slow development was common in boys, but we wanted to make sure, and sought out every therapy we could find to help him.
---
At around the age of 3, Jackson had made some progress but still wasn't talking much and
struggled with things such as imaginative play and interacting with others. Up until this point, we were going through the regional center to receive services to assist with Jackson's development, which we found helped him immensely. The age of 3 is when the school district takes over for the services he was receiving, and the professionals we were working with recommended having him evaluated for an official diagnosis of Autism for insurance purposes. Now, we had spent the last 1 ½ years preparing for this moment and in our hearts knew he was autistic, but nothing could have prepared us for that answer. The pain we felt in our hearts, the tears that fell down our face uncontrollably, the guilt and the helpless feeling was just so overwhelming. We knew however, that we needed to move forward with our plan for him and seek out every option to provide him with the best chance to succeed.

After Jackson's official diagnosis, I struggled a lot emotionally. It was hard feeling so helpless and the guilt I felt for not being able to protect my child. I felt, and still feel to this day, that he has been cheated. I cried often, and my wife and I spoke several times a day regarding how difficult it was. I was angry and that only grew because I couldn't get answers. There is no definitive reason of what causes autism or how to overcome its symptoms, and it is scary to think of the future and what it holds for Jackson. We don't know if he will ever feel success, get married, have children, or even just simply talk.

Through my experience with my son, I have learned what it means to persevere, make sacrifices and find strength in those around you. I also learned that together, my wife and I, would need to make some very tough decisions that not everyone will understand or necessarily agree with. But we know at the end of the day that we must give everything we have to him and explore every possibility with an open mind and an overwhelming desire to help our son succeed.

I not only learned a lot through this life experience, I have also learned a lot from my son. I was angry and emotional, but if you met Jackson, you would see that he is the happiest little boy you will ever meet. He smiles all the time and his laugh is contagious. He makes everyone's day just seem lighter and everyone is absolutely in love with him. He works so hard every day. It makes me happy to know that we can have so many goals and demands on him to work on, he can work so hard, and yet he can still be him and be happy. What I have learned from him is to work hard, trust in people, smile and laugh a lot, and be happy. If nothing changes and he grows to be an adult that works hard, smiles and laughs a lot, and can make so many other people so happy, then what do I have to be concerned about?! I said before he was born that I want my child to be healthy and happy – and he is.

As long as we have that, I know everything will be ok.