Sunday was not a good day. Neither was Monday. It breaks my heart because we have been making some huge strides over the past few months. Jackson has always been a happy-go-lucky kid who is always happy and smiling, and over the last two days, has had some very aggressive behavior emerge. I don't know what to do, or how to handle it. He doesn't understand time out, and we try to redirect the behavior, but it's like he can't control it. He has scratched me, kicked me, looking like he wants to attack me, and moments later is giving me kisses and hugs. I don't even get upset with him because I know he can't control it. It just breaks my heart that something is bothering him and he doesn't know how to deal with it or express his feelings. It has happened 4-5 times over the last 2 days, and it is shocking to see. I am just afraid, and don't know why it is happening. I feel helpless. What if he gets upset and hurts someone else, or a kid at school?

A huge part of me doesn't want to post this. As I am writing this I am questioning whether or not I want to share this with anyone. Talk about really exposing myself and being vulnerable without limits. But, I started this blog with the intention of helping others in our position, and they need to know that we are here having bad days just like everyone else. As much as I try to focus on writing about all the positive things that happen, it seems unfair to not share our struggles as they come.

At this moment, all we can do is hope that maybe it was the long weekend and less structure that frustrated him, and things will go back to our normal. If this just passes, it will make us so grateful for his minor behavior issues. If it continues, I really don't know where to go from here. I guess start with calling his doctor and preschool teacher? Working in the education industry has put me face to face with children and behavior issues before, but when the child has autism, it's not just a whole different ball game- it's a whole different sport. And I don't know the rules or how to play. We have gone through what he is eating, his activities, and really hope and pray that this was a fluke. We went through all the events of the weekend, and could not pin down something that made sense for why he would randomly get so upset without warning- we couldn't even come up with similarities between the situations before his outbursts.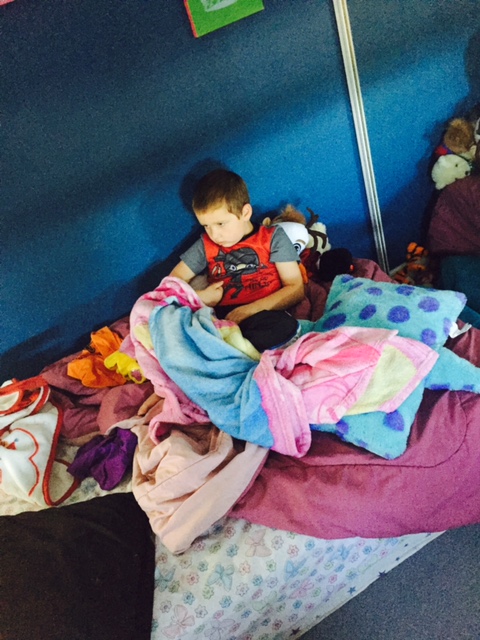 While Ella was camping with a friend over the long weekend, I found Jackson cuddled up in her bed upstairs several times. I think he missed her!
It is now Friday, and while we have had a heck of a time getting Jackson to sleep this week (he has been up every night), his behavior has returned to his "normal" from what we can see. I had conversations with both his County preschool teacher and had a meeting with his ABA BCBA supervisor, and they both feel that there is something that is bothering Jackson when he gets frustrated and has an outburst. They suggested a sensory issue, growing pains, and perhaps a virus that is making him feel icky. We are closely monitoring his behavior so we can take note of what may be upsetting him right before it happens, and if it continues we will take him to the pediatrician for testing. Since Tuesday, he has only lashed out when therapists have placed demands on him, which is not acceptable, but at least we understand it. I get that he doesn't want to do what they are asking, and feels can only get out of it by physically telling them he is upset. It is not ok, and we will continue to show him the appropriate way to tell them he is "all done," but there is a reason why he is lashing out. When he is playing nicely alone and gets up and goes and starts scratching us, we have a problem. But, like I said, we haven't seen it happen since Monday.
Even with how hard it is to deal with some of the issues that come up, it constantly reminds me what is truly important. It puts things in perspective, because so many stupid other problems that seem important, really aren't. Nothing matters more to us than the health of our children, and it makes all the petty things seem simply incomparable and insignificant. It also makes all of his triumphs that much brighter for us.
On a separate note, I have been lagging on getting posts up every week like I had originally planned, even though new progress with Jackson happens every day. I decided to start a facebook page to give shorter updates on Jackson's progress as well. Feel free to follow our journey there as well-
https://www.facebook.com/teamcrozier
.
Thank you for reading and for your support! I have really needed it this week, and all the comments, emails and messages I receive have been so uplifting.