I am so tired. Jackson is going through something crazy with his sleep habits, and a few days this week was up between 3:30-4:30 am. He was as happy as could be and stayed in his room, but I drifted in and out of sleep the next two hours until I heard him knocking on his bedroom door saying "knock knock", so I had him come hang out in our room. He was fine all day and school, and on one of the days he fell asleep on the way home at 6 pm. I tried to wake him up when we got home , but he was not having it. Luckily, he was so exhausted from not sleeping that he slept all the way through to 8:15 am the next morning when I woke him up for school. But then was up at 5 am the next day. We try to do whatever we can like swimming and jumping on the trampoline to burn off energy at night so he will sleep later, but he is still up at the crack of dawn. And it's so hard because although I feel like my eyelids can't stay open one more minute by the time his bedtime comes, he has been having a really hard time at night, and I am not sure why. He usually goes to sleep in his room with the lights out and door shut, and is as happy as can be. But lately, I feel like every night he has a melt down. And you're probably thinking well what kid wants to go to bed? I mean Ella pushes for every extra second she can stay up later. But this is different. He isn't upset when we put him to sleep. He is happy when we tuck him in with all his pillows and blankets, even acts little silly. It's usually not until 15-30 minutes afterwards, and we hear him hysterically crying in his room. There is very little we can do to console him when he gets like that, so I end up just laying in bed with him so even if he is crying, he isn't alone.

I think that has got to be the hardest part of this damn disorder. My poor baby can't tell me when something is wrong. Or if something is hurting. We have been doing the QST massage lately, and I think that may have something to do with it. The whole premise of the massage is that we all have energy inside of us that flows from the top of our head to the bottoms of our feet, and kids with autism get "blocks" or "holes" in their energy that we help either unblock or fill. Part of me sometimes thinks its too hippyish and we are wasting out time, but their rationale makes sense. Like maybe their energy is blocked in their fingers, so that is why they can't point? Or same thing with their feet, which is why a lot of them walk on the balls of their feet? There are a ton of things that make sense, which is why I keep doing it. And it intrigues me that sometimes the massage techniques do help calm him. But then I worry did I not too it right? Is he crying because I did the massage wrong and he has these crazy energy blocks that are causing him pain? Or could it be nothing to do with that at all? I don't know!!!

We did have one good night- last night. He went to sleep at 9pm, with no crying, and came in our room at 6:40 this morning. Perfection. But because I haven't slept all week, it was like a tease. Not possible to catch up on 3-4 nights of sleep in one night.

Now when I put it into perspective of how much worse it could be, I know I shouldn't be complaining. He is such a good boy, and is doing SO well with following directions, using his ipad to request things. His overall awareness just keeps growing in these crazy strides. I try not to get too excited because of the possibility of regressing, but still try to celebrate. It's like an balancing act- be happy for all that he accomplishes, but at the same time, don't get too comfortable with it.

I do have to tell you the most amazing story. Well, 2 amazing stories. Because no matter how much sleep I lose, or what I look like walking around like a zombie, these moments make it all worth it:

Jackson's summer school class ended, so he is attending his preschool he normally only goes to for the afternoons, for full days while I am working. It is all typical developing kids, but they all know Jackson and the kids in his class are great with him. So we are walking from the class room to the playground where his teacher is, and in order to get there, we have to walk through the 4-5 year old playground. Jackson is technically ready to move to the next class, but we have been waiting until his school starts again so he is only in the class in the afternoons with his aide. So we are walking through, and one of the teachers says "Hi Jackson." Jackson stops and gives her the flirtiest, shyest smile I have ever seen. It was so cute! So I say "Jackson why are you being so shy?" Well here is the magical part. He walks over to the teacher and gives her a hug. No prompting. No gestures. Just went over and gave her the sweetest hug ever. I practically melted on the spot. Her co-teacher wasn't standing too far and says "Aww where is my hug?" and he goes over and gives her a hug too! These are moments that I have dreamed about- him understanding appropriate human interaction and affection. There was a point in his life where I wondered if he would ever respond to his name, so you can understand why this is huge.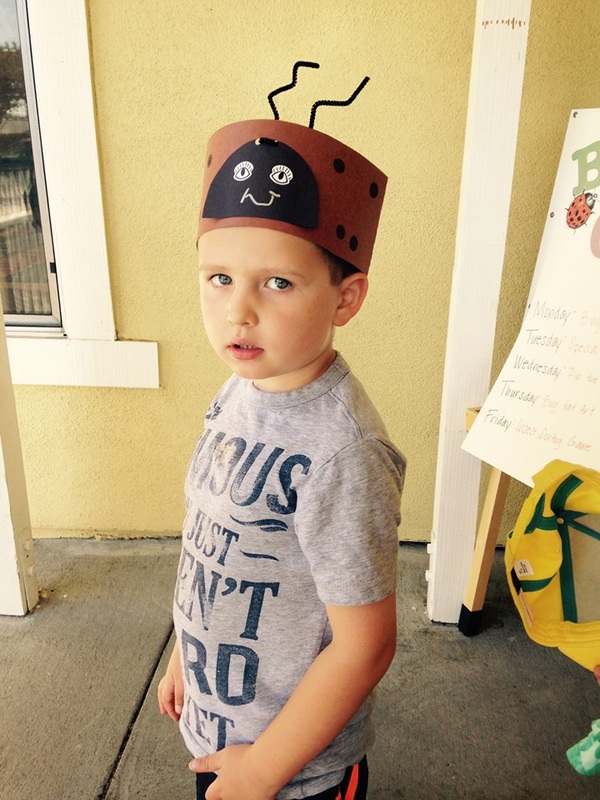 Jackson has been doing so well at school. Here he is wearing a special bug hat for creepy crawlers week! Normally, he will not leave a hat on for more that a few seconds! He loved this hat though!
The other magical moment was Jackson using the ipad to communicate, WITHOUT any prompting. Don actually posted about it on facebook, and I think his description says it all:
"So a couple months ago
Beckie
and I started a new program for Jackson that helps him to be able to communicate with us. It's ipad based and basically he is able to select certain items and he can tell us certain things like "I want water" "I want to play on the trampoline" etc.... yesterday was my first experience witnessing him use it, unprompted, and I can't express the amount of emotion that it brought to me. It truly was a moment that I felt my son communicated to me what he wanted for the first time. We are really just getting into this program and I can't wait to see the level of communication he will have in the next 3 months. The program is designed to progress as he does, and will help him greatly with verbal communication. The little things are his mountains, and I am so proud of each one climbed!"
When it comes down to it, I would give up sleep altogether if it would continue this kind of progress. Thanks for reading!