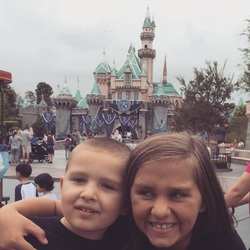 It has been busy lately! I think its been 2 weeks or more since my last post, and I have been having withdrawals from writing. A lot has happened recently, but tonight, I have to tell you about our trip to Disneyland.

As many of you know, Ella is a part of the dance team through her school, and the girls were given the opportunity to dance in a parade through Disneyland and California Adventure this summer. She wanted to partake, of course, so we decided to make a family vacation out of it. As an extra bonus, a huge amount of family decided to join us!

I have to start off by saying that Jackson completely exceeded our expectations with our Disneyland trip. He walked ALL day the first two days, and only had a stroller in the afternoon for the other 2 days. For those of you who don't know, it is common for people with Autism to have low muscle tone, which sometimes leads to fast fatigue. We have kept Jackson active and have seen huge strides in his physical development, but we still never know when his energy will run out. This is the first Disneyland trip since Jackson was diagnosed with ASD (the last time we went was right before he turned 3) and the first time we were attempting to not have stroller with us the entire time.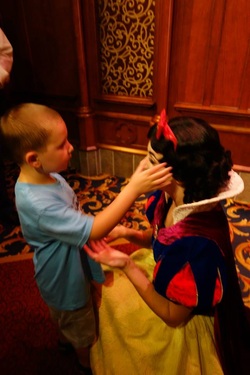 He loved the characters, went on every ride he was tall enough for (besides the tower of terror and space mountain LOL) and was as happy as could be the entire time. We had no idea what to expect with how he would react to the environment, but he was excited, and really seemed to take everything in around him. If that wasn't enough to make us ecstatic, Disneyland went above and beyond.

They have a new program to help people with disabilities who may have a hard time accessing rides, waiting in lines, etc. We had never taken advantage of anything like that in the past, but thought we would see what the options were. They have a special system similar to a fast pass, where we could go have our tickets scanned for a return time for any ride in the parks. This means that if there is a 60 minute wait for the Peter Pan ride, we get a return time for an hour from then, and then go through the exit to ride it at our time. We still had to wait the time for the ride, but didn't have to stand in the line, or even be near the ride we were going on next. This was especially helpful for the Cars radiator springs ride that is normally a 60-90 minute wait, and is one of Jackson's favorites. It made it easier for us as a family to navigate our time in the park, without Jackson getting overwhelmed with waiting in lines for hours and hours.

One other area I have to give a huge kudos to Disney is the characters. Now, Jackson doesn't have personal boundaries with others, so when it was his and Ella's turn, he walked up to Olaf the snowman and started petting his side, and wiped makeup off of Snow whites face. But when I told each character that Jackson has autism, they were so warm and giving, offering the soft part of their costume for Jackson to feel, and so patient with him. They engaged with him the best they could- when he started doing his little "run" around the room, Snow White followed him as if they were looking for something knocking on the doors, etc. It was so incredibly sweet, and meant so much to our family for their compassion and understanding.


Sometimes when we think about going on vacation, it sounds like more work then leisure. I can honestly say that we can not wait to take our family back! We were even able to hang out by the pool while the kids played, because Jackson was able to swim in the pool with his life vest independently. The entire vacation was absolutely wonderful, and one we will never forget.

Well done, Disney.