Over the last week, I have become more and more immersed into the "autism mom" community. I am in a couple facebook groups- one for the gemiini program we recently started and I plan to write about soon, a group for the iPad program, and an autism support group. The amount of support and understanding I have gotten from them is incredible. We share our stories, offer suggestions, support- all kinds of things. It is crazy to think that I can connect with people I have never met, yet we have this huge, life long battle in common. And when I say battle, I don't necessarily mean it in a bad way, but we will forever be fighting for our children in a way no one understands unless you have been there.

We also started getting training in QST massage training, which is said that if done every night, can reduce symptoms of autism by 30%. Don met Carrie, the trainer, at a work event. When they started talking, she shared she had a 9 year old with Autism, and Don told her about Jackson. She is an "Autism Life Coach" and has made a full time job out of being an advocate for other parents, working with children and adult on the spectrum, etc. She wanted to add the QST Parent Training to her "tool bag" of things to help families, and needed a child 5 or younger to complete the training, and asked if we would be interested learning the technique if Jackson could be her "subject" for the training. After researching the massage and seeing there are no risks besides the time commitment to do the massage every day, we decided to go for it.

But I don't want to go into the massage at the moment. I plan to, but after we have been doing it a bit longer (it's been about 3 weeks so far). I want to talk about the fact that we were sitting in the living room with her, like we do every week, and she asked how things were going. I told her about this blog, what we dealing with the iPad program, the swim lessons, Ella's help with Jackson- pretty much everything going on in our life. Don chimed in too, and I liked hearing things from his perspective to an outsider from our family. Carrie offered some feedback on ways to handle things, and just validated our feelings and talked about situations she has had with her daughter that our similar. I knew I liked her- we hugged the first time we met and spoke like we knew each other for years rather than a few weeks. She has such a calm soothing energy around her, and it's clear she is the perfect person to be teaching a massage technique for kids with autism. But I had an epiphany sitting there talking about our feelings, hopes, etc. that we were in therapy, or better said, having a therapy session. I never realized how much just sitting to someone and talking would liberate me, and in turn make me feel calm and relaxed. And, in turn, it has made me reflect on the last couple years, and how we have coped as a family.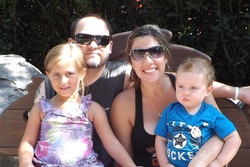 The truth is, when we first started going through everything with Jackson, I withdrew from a lot of people. I was angry, confused, sad, and felt cheated at my chance to have a "normal" family. And then I felt guilty for feeling that way. I avoided gatherings with friends, or left early when I did go, stopped confiding in people, the list goes on. I felt like no one understood what we were going through, because they really didn't. It made me angry, and somewhat lose compassion for other people's problems, because I felt no one knows real problems until they go through what I am going through. At the time, Don was commuting to Palo Alto and I would drop Jackson off at his county preschool and drive an hour back to work, so we would sit on the phone during our commutes. We would talk about how Jackson's drop off with his teacher was, latest news with insurance, the bio-med doctor, our feelings- the list goes on. I even remember just sitting on the phone crying to each other, Don feeling that Jackson was being cheated out of a "normal" childhood, and me trying to console him- that Jackson doesn't know it any other way. We leaned on each other and had to console each other often- we were grieving, but just didn't know what to call it at the time. It is even hard to admit that now. But, we got through it. The life we expected changed, and we had to adapt to what our new "normal" would be.
When you are going through hardships in your life, whatever it may be, you find out who your true friends and family are. You learn who you can depend on, who will be there to listen to you cry on your lunch break, or hear you vent about how hard things are. I pushed so many people away, and the ones who are still around me now are the ones who did take it- they did give me space when I needed it, but they have always been there. I didn't want to go to kid's birthday parties or gatherings- I didn't know how people would react around Jackson as he got older, and his differences from the other children his age became more obvious. I would wonder and worry about what the other parents were thinking. But I look back now, and know that all the insecurities were inside me. I was worried he wouldn't be accepted or understood. Or that people would judge the way we parented him- because it is different than parenting a typical developing child. For a long time, I was just scared and insecure. But I know now that the people we surround ourselves with are 100% behind us, and the support has been almost overwhelming. Especially since I started writing this blog- the emails, comments, and words of love and encouragement prove that Jackson will always have people rallying around him and our family. I have even received advice from people I don't know, with documents to help in our IEP meeting with the iPad, etc. I didn't think more than a few people would even read this blog, let alone getting tips from strangers. It is amazing, and continues to show me how much support Jackson will have as he gets older.

For many people in our personal life, Jackson is the first person with autism they have met, so there is sometimes a lack of understanding for what the disorder means. But I have to say, that if Jackson helps raise awareness or is the "face of autism" to people around us, it is ok with me. He is one of the most beautiful, spirited, and pure people on this earth, and I hear from people all the time how he has touched their lives, or made them just appreciate things more, because of how happy he is despite how hard he works. And just to be clear, I wouldn't change Jackson for anything. I want him to overcome the hurdles and developmental issues he has and reach the fullest of his potential, but I do not wish he was different. He is perfect as he is, and just learns and develops differently.

So, I know I have been kind of all over the place with this post, but to finish up, I first want to say thank you. Thank you to the family and friends who didn't let us hide away in our sorrows. For continuing to invite us places, regardless if we said no the previous time or not. For listening to me try to figure out insurance, or the school district, or ACES. For letting me burst into tears, because I just couldn't hold it in. For laughing with me when there was something worth laughing at, and reminding me that there are a thousand things to be happy about, regardless of what we are going through. For sending an encouraging text- because you may not have known it at the time, but I needed it. To those who weren't there, well, I have learned who we can truly count on, and thank you for your help in us discovering that. To Don, for fighting alongside me for Jackson, and being a true partner that I can count on. We have become a united force to be reckoned with. To my daughter Ella, for always being mommy's big helper, and allowing us to give Jackson the extra help he needs, even if it means a little time of yours taken. You are my angel, and when you are older, will understand more clearly what a difference you have made in your brother's life by being so caring, compassionate, loving, and silly with him. And my parents for your continuous unconditional love, and willingness to do anything possible to help our family give Jackson what he needs. I want to be just like you when my kids are older.

I wouldn't change our journey, because it has made me the stronger, and sometimes feistier, advocate that Jackson needs, and the person who I am. Sorry for getting a little extra mushy today. Reflection does that. :-) Thanks for reading- lots more to come in the next few months!