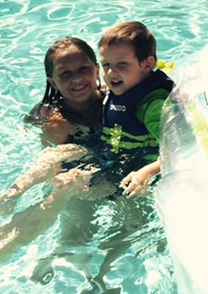 OK, maybe not completely swim, but enough so that it is a huge milestone for us. In the past, if Jackson wants to swim, one of us needs to either go in with him, or he has to wear a life vest with an inner tube around his torso. The poor kid looks like he is going to blast off into space, but safety is first! Learning to swim is important for all children, but I heard once that drowning is the #1 cause of death of people with Autism because they can be "wanderers" and are drawn to water. Even just thinking about it terrifies the hell out of me. We also wanted to get him swimming somewhat independently, so I started researching places for swim lessons, hoping and praying we would find someone who could get through to Jackson in this area.

We knew that he would need a private lesson, and after talking with a few managers, settled on AVAC. I spoke to the manager a few times about him, and filled out a questionnaire all about his abilities, communication tactics, etc. The day of the first lesson arrives, and I am feeling nervous and excited, and can't wait to see how Jackson does. We check in and go get changed, and are told to wait by the door in the viewing area, as that is where the teacher will come and call his name. So while I am standing there waiting anxiously, I take in everything around me. The pool is huge- I couldn't tell you the dimensions or size, but large enough that they easily have 10 swimming lessons going on at the same time. And its loud- I am really questioning how Jackson is going to focus in this environment. But we're here, and we're going to give it a shot.

A few teachers come to the door, and one of the guys calls out Jackson's name. Now, I try not to stereotype based on age, especially because people do it to me all the time (oh my god! you have an 8 year old??? NO WAY! Yes it's a compliment but when someone you're interviewing asks you your age, its a little awkward. But that's another story). So the guy that is going to teach Jackson how to swim can't be older than 19. And I am not judging, because many 19 years are very competent in many areas. But all I can think this kid is going to teach my son with autism how to swim? Really? Ok fine, we will try it. But I am skeptical.

So of course I don't stay in the viewing room where you are supposed to. Surprise surprise, right? Nope. I follow him with Jackson to the pool, and after helping Jackson get in the pool with the teacher, sit on the ground a few feet away from the side of the pool. Don walks in right after and joins me, and both of us watching this kid like hawks. We were not impressed. He is talking to Jackson, and Jackson is looking away, not engaged at all. He finally gets his attention, and tells him to "look", and then puts his face in the water and back up. Jackson laughs and puts his mouth in the water and takes a big drink. Well that's great.

The rest of the lesson is somewhat similar. He tries to get him to do things, and I think finally realizes that he needs to physically do the arm movements for him in order to get any reaction. At one point Don says to me "Does he have any training working with non-verbal autistic kids?" and I'm like "good freaken question". Because the manager I spoke to knew what we needed, and I am really not sure she took it into consideration when choosing his teacher. When the lesson is over, we go over to get Jackson and talk to the teacher. And, as we all know, I can't keep my big mouth shut. So I start telling him what he should do with Jackson. And how he should teach him. And how he needs to communicate with him. And I am starting to thing that I should have just taught him myself. Well, I don't say that last part out loud, but I sure am thinking it.

So we rinse him off, change him, and go home, feeling a little defeated. It wasn't all bad- Jackson LOVES being in the water, which is a big hurdle for some, so we have that going for us. But the lesson, well, I am not so optimistic for the future.

That weekend, Ella has auditions for her dance team (GO WVDC!), so I am occupied with her while Don takes Jackson swimming. I don't know exactly what he did, but by the time we meet him at the pool later, Jackson is swimming with just his vest and a kick board!

Then the following week, Don and Ella go to his work softball game, so it's just me and Jackson at the lesson. I decide I am going to take the calm approach. When Jackson's name is called I walk him over and tell the teacher I will wait in the viewing area while he goes with Jackson. He has another guy with him today- not sure if he is training him or if he is there to help, but it seems to help Jackson. Things go much better. Sure, Jackson still drank half the pool, but I feel like the kid actually heard what I said last week about showing Jackson what you need him to do in order to get action from him. Jackson loves every minute, and they practice "ice cream scoop" arms and kicking. I am feeling much better, and a little bad for doubting the teacher so much in the beginning.

But you have to understand where we are coming from- things don't come easy for Jackson. He works so hard at everything he does. I just wanted something to come naturally to him. But I realize now that my expectations were too high for the first lesson, and as time has gone on, the lessons have gotten progressively better.

So Father's day comes around, and after a super yummy breakfast at Bill's cafe with some family, we go to my sister in law, Kristina's house. Don and my brother in law, Frank, go golfing while we take the kids and my niece, Sloane, swimming. Jackson is loving the water, and is just in his vest, so either Ella or I are holding him. I try to give him the kick board, but he isn't into it today, so I hold him and swim around with him. Kristina and I are over being in the water so tell the kids it's time to go, when the guys show up and jump in. Jackson is so excited and goes right back in with Don. Then, I don't know what or how it happened, but Jackson was swimming in the middle of the 5ft water with just his vest on! He was treading water, keeping his head up- it was amazing! And he kept doing it!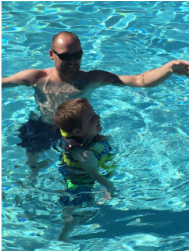 After a while, Jackson came out so I could change his pull up, and wanted to get back in. Don was on the other side of the pool playing with Ella, so I set Jackson on the side of the pool with his feet in, just to see what he would do. He turned onto his stomach, and slowly lowered himself into the water, holding onto the side the entire time. The fact that he knew the appropriate way to get in and didn't just try to throw himself in the water is HUGE!

So, I have been reminded from this experience that I need to check my expectations at the door, and be patient for his progress, even if it is slow. And we have to practice practice practice! With how much we have been through the last 2 ½ years, it is hard to not hope for an overnight treatment, but I see him grow, develop, and give it his all every day, and that is more important than taking off like an Olympic swimmer during his first lesson. I couldn't be more proud of him, and look forward to the day when he gets so good at treading water and swimming, we can take the vest off and let him swim around alone.

Thanks for reading! :-)